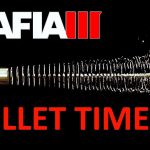 ---
Bullet Time Mod v1.0
Bullet Time Mod V1.0 : Made By Slade
– A lua script mod for the game Mafia3 by 2K Games
INFORMATION:
VERSION:
This is version 1.0 initial release.
COMPATIBILITY:
All of my mods are 100% compatible to each other.
In general the mods should be compatible to almost every other mod.
Obviously, if you are using a mod that injects or alters the game in the same way like one of my mods does, weird stuff can happen.
Also make sure bindkeys from other script mods are not blocking.
DESCRIPTION:
This mod adds the ability to use bullet time in game by pressing "B" key.
GAMEPLAY:
HOW TO USE:
Press B to switch to 1/2 time speed.
Press B again to switch to 1/4 time speed.
Press B again and you are back to normal time speed.
AUTHOR INFO:
MBS stands for "Made By Slade". I am Slade, the author of this mod.
My primary alias is "Sladernimo". I'm a part of the Vega Game Projects community.
VEGA – GAME PROJECTS INFO:
Vega Game Projects is a community for individual gamers and modders.
We customize our games and servers to refine the overall gaming expirience and play togehter.
We usually hang out on our Teamspeak Server.
LEGAL NOTICE:
Mafia Games / Mafia 3 are registered trademarks of 2K Games. This modification is not affiliated with or endorsed by 2K Games.
© 2016. 2K Games and its subsidiaries. All other marks and trademarks are the property of their respective owners. All rights reserved.
SETUP/REQUIREMENTS:
Install Mafia3ScriptHook if not already done.
Copy mbs_BulletTime.lua into your scripts folder inside of your Mafia3 folder.
Start Mafia3 & Mafia3ScriptHook. (You can refresh lua script mods by pressing F1.)
Enjoy the mod & have fun!