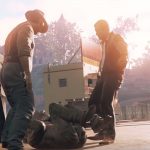 ---
New Mafia 3 Video Shows How You Make Money, With Violence Of Course
2K Games today released a new trailer for crime game Mafia III that shines a light on how main character Lincoln Clay can earn money in 1968 New Orleans.
You can earn money in many ways, beginning with simply taking down enemy gangsters. Additionally, you can interrogate people to find out where their organization may be hiding its money. You can also fill your pockets by recruiting racket bosses. Killing them gives you a reward, too, but recruiting them to work for you pays off more in the long run. As you can see in the video, Clay uses force to gain new underlings. In the example shown, you can get $2000 to kill a racket boss or $4000 to recruit them.
You can spend cash on things like weapon and car upgrades, as well as grenades and C4. If you die, you'll lose a "significant" portion of your cash, but there is something you can do to safeguard your money.
You can call in one of your underbosses, the consigliere, who arrives by car to pick up your cash and store it in a safe location. Whether or not you have to do anything to protect your money once it's there was not mentioned in the video.
Mafia III releases for PS4, Xbox One, and PC on October 7. Publisher 2K recently announced its post-launch DLC plans, which includes free content in addition to paid expansions. Additionally, if you're planning to pick up the game on PC, you can see the system requirements here.
For more on Mafia III, check out GameSpot's new feature that covers seven things you need to know. You can also read GameSpot's interview with composer Jesse Harlin.